We Have New Hours
Coming in 2024
Where Exceptional Clock
Service Takes Place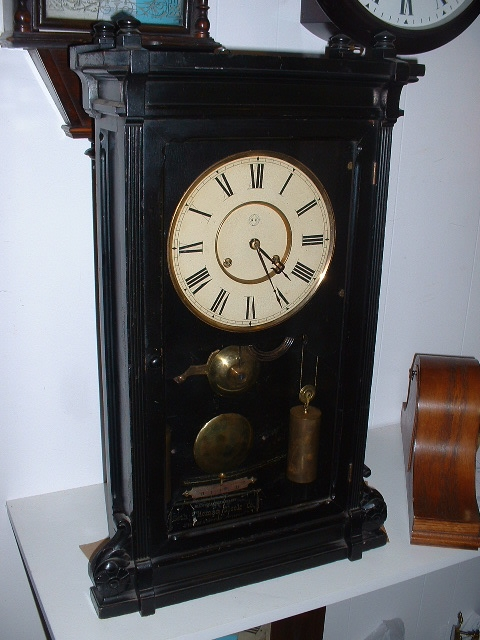 When a customer comes to my shop, the repair job depends on what brand and type of clock it is, of course, and what they would like to have done to it. Once we've established that, I evaluate the work at no charge. Then I will give the customer a price, find out how quickly they would like it done, and put the job in the work log, which places the clock in line. I normally have a backlog of three to four months.
Most clocks in my shop for repair are going to go through the same process. The first stage is disassembly and inspection. During this phase I look for anything unexpected, anything I might not have seen during the initial assessment.
Next, I place all the parts in a hot, ammonia-based solution for an ultrasonic bath that cleans and brightens the brass. Then everything goes through a water wash, followed by a drying agent. Finally, the parts are blown dry and heated in an oven to make sure all the moisture has evaporated so that nothing rusts.
Only then do I start to work on it. The main servicing consists of polishing all the pivots, bushing all the holes that need bushing, and inspecting and/or replacing the main springs. Then I repeat the above cleaning to remove any leftover debris from the bushing process.
I grease the springs, reassemble, and then oil the movement and set it up for running. The reassembled movement hangs on my wall or stands on a shelf for a test run. I let it run for a week or two to make sure that it keeps time and that the chimes ring properly.
Another unique aspect of my service is that I take pictures of each clock in its various stages of disassembly to present to the customer when it's picked up. Usually, the owners are fascinated when they see the intricate inner workings of their clock laid out in shining, individual pieces on a worktable.
The pictures show them exactly what it has gone through while in my care and how comprehensive the service was. Also, they provide a record that they can keep with their clock so they know what has been done to it.
Some people may not want this much work done to their clock for one reason or another. Sometimes I can take the movement out of its case, oil it, and just do some small cleaning and adjustment without complete disassembly. If I determine that the clock isn't too badly worn, this light version of service may be all the clock needs and provide all the customer wants in the way of repair.
I try to be a full-service clock repair company by providing other services that I may not do myself. Sometimes the case is damaged or a piece is missing, or the dial has significant wear or is scratched or broken. In other types of clocks, glass pieces in the doors, called tablets, may have been beautifully stenciled or painted, but the images and pictures have faded, worn down, or disappeared altogether.
In many instances, these features can be restored nearly to their original state, so I collaborate with a variety of skilled artisans and craftsmen who are able to provide the skills that I cannot.
A lot of times, customers are interested in learning more about their clock, particularly anything unique and unusual about it – where it was made and the historical period it's from, information relating to the design, and if it's been modified or retrofitted in some way. I can usually provide most of this information. I can also have appraisals done for insurance purposes by an independent certified appraiser.